Andrea Büttner
What is so terrible about craft? / Die Produkte der men­schlichen Hand
2019, 34m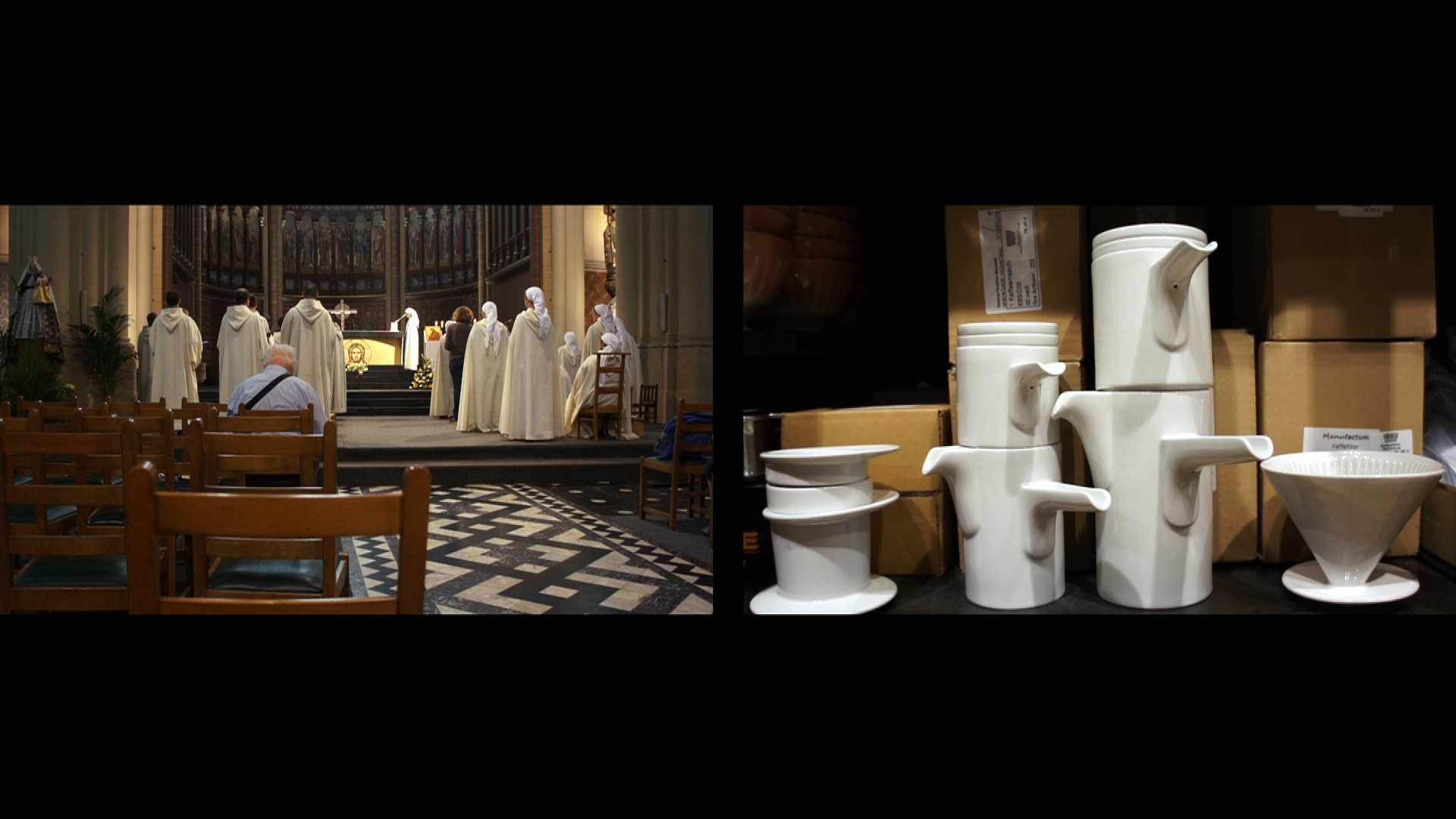 Andrea Büttner's double-­channel video leads with the question: what is so terrible about craft? Depending on the intonation and disposition of the reader, the assump­tion of Büttner's title is that either craft is al­ ready terrible (in fact, 'so terrible'), or that the title is actually a rhetorical question that seeks to vindicate craft from its supposed terror. But in both cases, the relationship be­tween craft and terribleness is established before the video even begins.
Büttner's practice has long been preoccupied with the culturally intertwined histories of aesthetics and quality. Her glass painting, woodcuts, and unfired clay sculptures have been described as both borrowing and cri­tiquing the humble, the unfashionable, and the traditional aspects of craft methods. Her videos meanwhile grapple with craft's histor­ical associations with spiritualism. Büttner, however, is sceptical of craft's modesty. Indeed, What is so terrible about craft? / Die Produkte der men­schlichen Hand seeks to expose the thin veneer of politeness and acceptability that craft mobilizes as a front for its materi­alist capacities.
Craft is a political issue. From reactionary political movements' swing towards the re­gional or 'the local' as a solution to societal discontent (namely, the Arts and Crafts movement's attempt to reform the social and economic lives of people in opposition to industrial and modern capitalism), to the post­-WW2 deployment of craft as a collec­tive experience that might heal the trauma of war, craft and its histories are inseparable from the construction of national identities. To critique craft, is thus also to critique nationalism.
Following the two-­part title, the video presents parallel documentation of two German interiors. Following the opening question, What is so terrible about craft?, on the left­ hand screen is a church; and after the alternative title, Die Produk­te der menschlichen Hand, which serves as a counterpart and an acerbic answer to the latter question, is a high­-end department store replete with its luxury wares. Both viewpoints track numerous objects in respective places, finding equiva­lences, patterns and interchangeable human interactions between spiritual site and com­mercial hub. Witty juxtapositions gradually build up to devastating algorithmic com­parisons.
But these two spaces are bound together not simply by dint of residing in the same city of Cologne. They are also united by the video's lone voice: a nun who's spiritual and occupational labor was, until recently, divided between both of these environments. The nun describes her calling, employment, and desires. And although the camera captures a group of nuns at prayer, the narrator nonetheless maintains a shadowy presence throughout. Another figure is also captured at the edges of this video; the specter of Karl Marx hangs not simply in the German title – a direct quotation from the philosopher – but also the way in which it is a substitute name for the department store itself: Manufactum.
The traditions of craft have been infused with models of life and ways of being. What is so terrible about craft? / Die Produkte der men­schlichen Hand begins with one question while asking an­ other: who do these models serve, and to what end?
About the artist
Andrea Büttner lives and works in Berlin. Her practice connects art history with social or ethical issues, exploring broad-ranging topics such as poverty, work, community, belief, botany, Catholicism, and philosophy. Her work is based on thorough research into specific areas or situations, and is articulated through diverse formats including printmaking, sculpture, painting, weaving, photography, and video.
Büttner was shortlisted for the Turner Prize in 2017 and is a winner of the 2009 Max Mara Art Prize for Women. Selected solo exhibitions include Shepherds and Kings, Bergen Kunstall (2018); Hammer Museum, Los Angeles (2017); Beggars and iPhones, Kunsthalle Wien (2015); Walker Art Center, Minneapolis (2015); Tate Britain, London (2014); Museum Ludwig, Cologne (2014); MMK Museum für Moderne Kunst, Frankfurt; and The Poverty of Riches, Whitechapel Gallery, London / Collezione Maramotti, Reggio Emilia, IT (2010). She participated in Documenta 13 (2012) and the 29th and 33rd Bienal de São Paulo, BR (2010 and 2018). Selected group shows include On Vulnerability and Doubt, AT Centre for Contemporary Art, Melbourne, Australia (2019); Tell me about yesterday tomorrow, NS Dokumentationszentrum Munich, DE (2019); Turner Prize exhibition, Ferens Art Gallery, Hull, GB (2017); and British Art Show 8 (2016). Her work is in the permanent collections of many institutions, including the Museum of Modern Art, New York; Tate, London; Centre national des arts plastiques, Paris; Sammlung zeitgenössicher Kunst der Bundesrepublik Deutschland, Bonn; MMK Museum für Moderne Kunst, Frankfurt; Museum Ludwig, Cologne; Lenbachhaus, Munich; Museo Nacional Centro de Arte Reina Sofia, Madrid; and Walker Art Center, Minneapolis.
She has published several artist's books, including The Book of Vagabonds: The Mendecant Order (2019). Büttner's book Shame was edited by Mason Leaver-Yap, and published by Koenig Books in collaboration with KW Institute for Contemporary Art in 2020.
Online talk: Andrea Büttner on Shame, 2 December 2020
From shaming and shamefulness to shame-avoidance and shamelessness, the experience of shame influences our social behaviours, decision-making abilities, and desires. Shame determines what we show and what we hide. And yet, as an emotion that begs for its own concealment, what is the structure and appearance of shame? How does shame interact with the realm of the visible, and where does it surface in visual culture?
This online discussion marks artist Andrea Büttner's long-awaited book, Shame (Koenig, KW Institute for Contemporary Art, 2020), a book that was published in parallel with her recent KW Production Series film What is so terrible about craft? / Die Produkte der menschlichen Hand (2019). In conversation with the book's editor and KW Associate Curator Mason Leaver-Yap, Büttner discusses definitions and representations of shame, and her historical and contemporary analysis of shame's aesthetics and power.
Shame is available for purchase through KW's online shop.
Partners
Andrea Büttner's What is so terrible about craft? / Die Produkte der menschlichen Hand is a commission by KW Institute of Contemporary Art, Berlin, with support from Julia Stoschek Collection and Outset Germany_Switzerland. The exhibition premier was presented in collaboration with Kunstverein München, November 23 – December 1 2019.