Rachel O'Reilly
INFRACTIONS
2019, 63m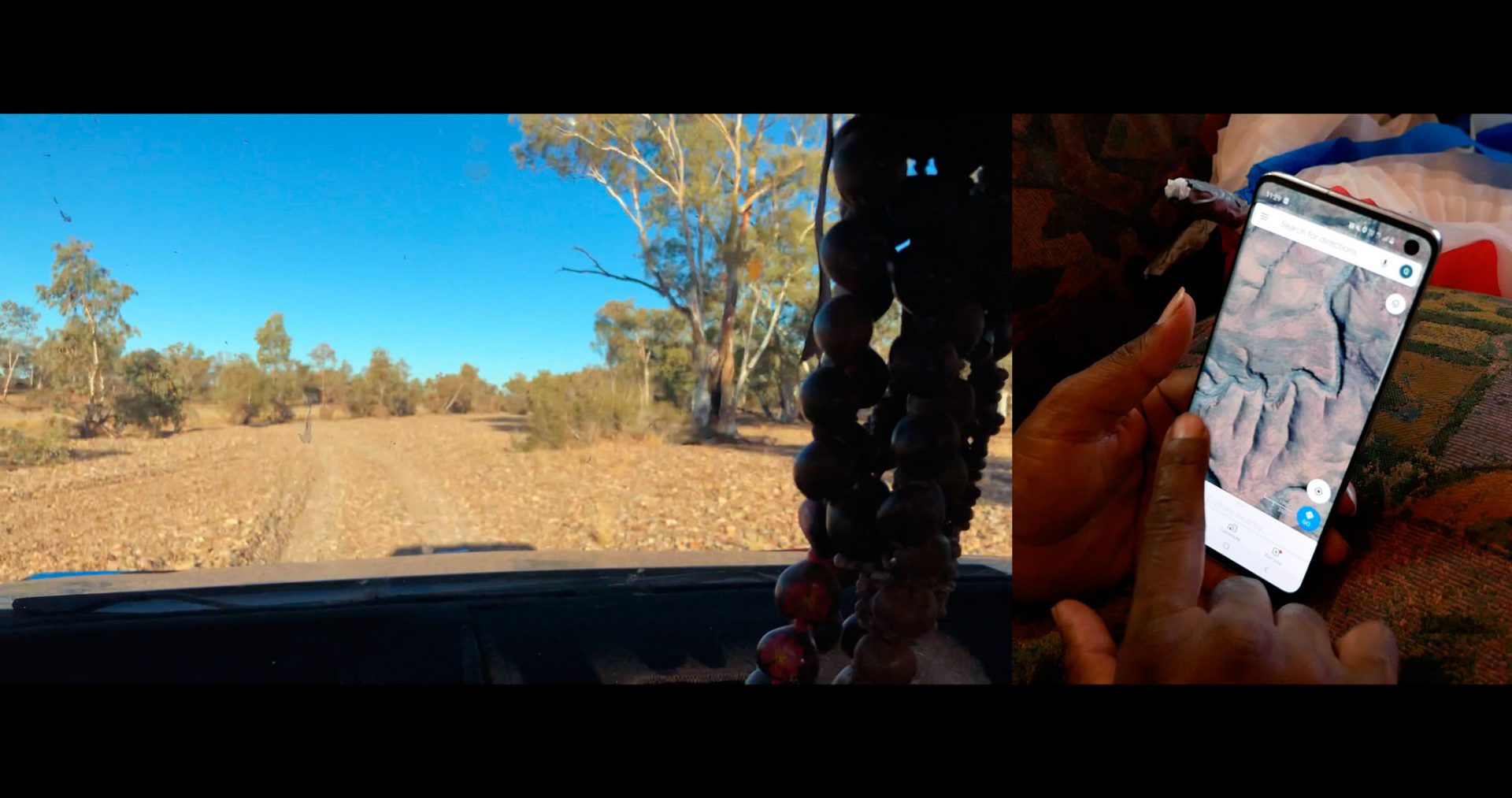 INFRACTIONS is an artistic documentary in dialogue with frontline Indigenous cultural workers' struggles against threats to more than 50% of the Northern Territory of Australia from shale gas fracking. As the country becomes the leading exporter of planet-warming fossil fuels globally, and Asia and the EU plan to increase fracked gas imports, pressure on this region has intensified, threatening hard-won Aboriginal land rights and homelands.
Colonial plans to 'Develop the North' of Australia have been resurrected at different moments since the nineteenth century, but abandoned just as quickly for being built on fantasies that related little to the actual behavior of monsoonal-desert water systems. With the lifting of a state moratorium in 2018, British, US, and homegrown mining companies seek to roll out toxic drilling rigs over vast underground flows, which are key connecting sites of culture, law and food for First Nations.
Refuting capitalist and colonial models of land and water in the driest continent on earth, INFRACTIONS features musician/community leader Dimakarri 'Ray' Dixon (Mudburra); painter/community leader Jack Green, also winner of the the 2015 Peter Rawlinson Conservation Award (Garawa, Gudanji); musician/community leader Gadrian Hoosan (Garrwa, Yanyuwa); ranger Robert O'Keefe (Wambaya), educators Juliri Ingra and Neola Savage (Gooreng Gooreng); community worker and law student Que Kenny (Western Arrarnta); musician Cassie Williams (Western Arrarnta); the Sandridge Band; and Professor Irene Watson (Tanganekald, Meintangk Bunganditj), contributor to the draft UN Declaration on the Rights of Indigenous Peoples, 1990-1994.
The camera of INFRACTIONS connects incommensurable legal geographies, extractive industry and labor history to ongoing Indigenous-led resistance and movement. It documents defenders of culture and water who warn of stories of manufactured consent, and Indigenous legal theorist Irene Watson explains the limits of the Western international legal system for planetary survival and justice.
Director/Research/Camera/Sound: Rachel O'Reilly; Producer: Mason Leaver-Yap; Editor/Visual Research: Sebastian Bodirsky; Camera: Tibor Hegedis, Colleen Raven (Nharla Photography); Sound mastering: Jochen Jezussek; Map visuals: Valle Medina, Benjamin Reynolds (Pa.LaC.E); Subtitles: Katharina Habibi.
About the artist
Rachel O'Reilly is an artist, writer/poet, curator and PhD researcher at Goldsmiths' Centre for Research Architecture. She teaches the theory seminar 'At the Limits of the Writerly' on planetarity, political economy and poetics at the Dutch Art Institute. She was previously a curator at the Australian Cinematheque at the Gallery of Modern Art | Australian Cinematheque, Brisbane, and researcher at the Jan van Eyck Academy. Her artistic work and research have been presented internationally, most recently at Van Abbemuseum, Eindhoven; E-flux, New York; and UNSW Galleries, Sydney. Recent curatorial collaborations include Ex-Embassy with Sonja Hornung and Planetary Records: Performing Justice between Art and Law with Natasha Ginwala. She co-wrote On Neutrality with Jelena Vesic and Vlidi Jeric for the Non-Aligned Modernisms series (MCA, Belgrade), publishes with Danny Butt on artistic autonomy in settler colonial space, and currently co-edits Feminist Takes on Black Wave Film with Antonia Majaca and Jelena Vesic for Sternberg Press. www.rachel-oreilly.net
Public talks and podcasts
As part of INFRACTIONS international screening tour, Rachel O'Reilly engaged multiple conversations with artists, Indigenous educators, community support workers and organizers working against unconventional gas extraction. The recordings of these conversations were recorded across multiple locations and circulated online. A selection of them are included below, and others can be found on the official film website.
Talk: Post-screening Q&A with Que Kenny and Rachel O'Reilly, 24 November 2019

Hosted by Mason Leaver-Yap at Babylon Kino, Berlin.
Talk: Panel discussion with Rachel O'Reilly, Anthony Faramelli, Sarah Keenan, Que Kenny and Olivier Marboeuf, 4 December 2019

Hosted by Steven Cairns at the Institute of Contemporary Art, London.
Talk: Cultural Work Across Fracking Frontlines, 7 November 2020
With Roxanne Highfold, Que Kenny and Rachel O'Reilly at Watch This Space (Alice Springs/Mparntwe). More on IMA.org.au.
Talk: Art in an Age of Gas Destruction, 15 October 2020
With Que Kenny, Phillip Marrii Winzer, Vernon Ah Kee, and Rachel O'Reilly. Hosted by Warraba Weatherall at IMA. More on IMA.org.au
Talk: Arts of the Frontline, 30 November 2020
With Juliri Ingra, Dan Robins, Neola Savage and Rachel O'Reilly at IMA. More on IMA.org.au.
Online talk: Art, Mine Power and the Cultural Work of Climate Justice, 17 March 2021
With Tony Birch, Helen Hughes and Rachel O'Reilly at Monash University Museum of Art.
Read more about this work
The Gas Imaginary [website via Or Gallery, Vancouver]
Essay: Rachel O'Reilly, 'Dematerializations of the Land/Water Object', e-flux Journal, April 2018.
Review: Kieran Finnane, 'Fighting not just to survive, but to flourish', Alice Springs News, December 2020.
Review: Ben Gook, 'Fracking for Truth in Northern Australia', Goethe Institute, December 2019.
Partners
Rachel O'Reilly's INFRACTIONS is a co-production by Julia Stoschek Collection and Outset Contemporary Art Fund in support of KW Production Series, with additional support from the Australia Council and Museum Abteiberg.
INFRACTIONS premiered at Babylon Kino, Berlin, and went on to screen at the Institute of Contemporary Arts, London. Both featured public programs with Que Kenny (Western Arrarnta) in November 2019.
A subsequent traveling exhibition of INFRACTIONS was organised by the Institute of Modern Art, Brisbane, with public programs supported by the Queensland Government through Arts Queensland. Venues include: IMA, Brisbane (Australian Premiere); Watch This Space, Alice Springs; Darwin Community Arts, Darwin; UNSW, Sydney; MUMA, Melbourne; and GRAGM, Gladstone.