Lin+Lam
Three Missing Letters
2021, 25m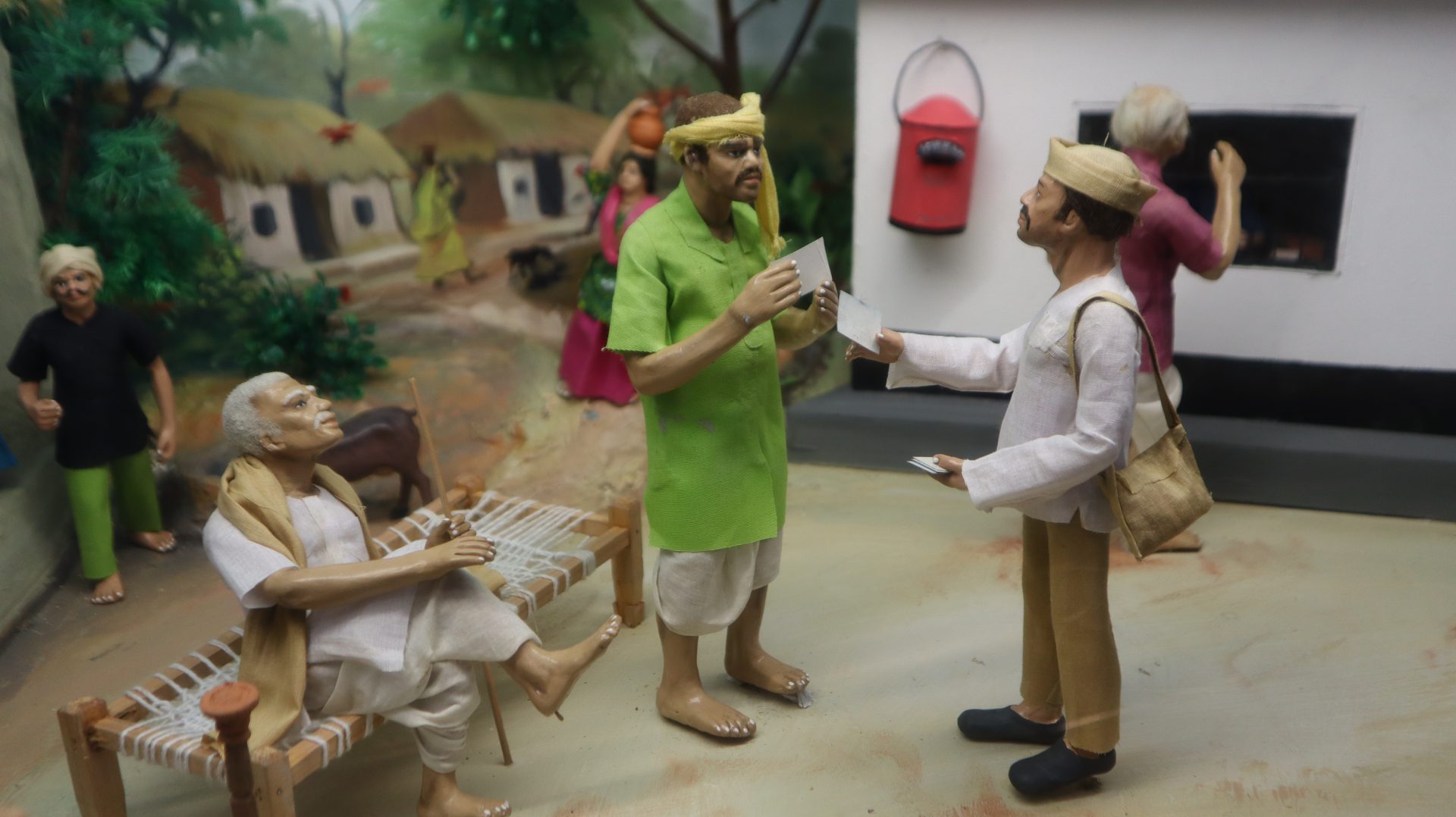 In 1934, in the seas off Saugor Island, India, dental surgeon and innovator Stephen H. Smith attempted a rocket launch. The rocket carried a batch of 143 letters, and its purpose was to herald a new era of air mail—a fast and direct communication technology that dispensed with slow, land-based infrastructures of road transportation. Smith imagined its potential to provide disaster relief for those in mountainous regions such as the Himalayas, and to usher in a new age of interplanetary connectedness. The launch did not go to plan. The rocket exploded in mid-air, scattering its cargo. 140 letters were retrieved, but the remaining 3 were lost.
Traversing a landscape of historical and contemporary media—including digitized maps, archive documents, stop-motion animation, and re-staged tableaux—Lin+Lam's new film Three Missing Letters speculates on the content of these three lost letters.
The film traces the environmental and political contours that affect the free flow of communication across contested borders. Three Missing Letters interleaves complex histories into the legacy of Smith's failed experiment: hostile military relations, shifting ecological conditions, and the extraction of natural resources as part of the dilating arteries of import and export. Embedded in this telling, is the ongoing labor of Indian and Chinese postmen who continue to deliver mail by running the treacherous no-man's land of Nathu La, the Himalayan "Pass of the Listening Ear" at 14,000' elevation. Lin+Lam remark, "this exchange has weathered the ebb and flow of diplomatic relations and has enabled Tibetan refugees to remain in touch with their families when no other contact is permitted."
The film interrogates not only forms of communication technologies between nation states, but the very ways in which the concept and recognition of "nation" is contingent on access to communication. Three Missing Letters was developed throughout the long and winding path to the 2020 US presidential elections and, with prescience, Lin+Lam echo the words of Kashmiri poet Agha Shahid Ali in their third letter: "a country without a post office is a country whose future has been constrained."
About the artists
Lin+Lam (Lana Lin and H. Lan Thao Lam) have collaborated together since 2001. They produce research-based projects that expand the conception of history, evidence, and subjectivity. Their work has always served a pedagogic as well as aesthetic function, asking viewers not to take information for granted, but to question the motives behind how representational choices are made and the methods through which they are structured. As artists and scholars, they have engaged with psychoanalysis, anthropology, and post-colonial studies. Lin+Lam's new video continues to investigate social hierarchies and power relations, assessing history, art and media's potential for truth-telling and manipulation. 
Lin+Lam's work has been exhibited at international venues including the Museum of Modern Art, New Museum, The Kitchen, and the Queens Museum, all New York; Yerba Buena Center for the Arts, San Francisco; Arko Arts Center, Korean Arts Council, Seoul; Internationales Oberhausen Short Film Festival; and the 3rd Guangzhou Triennial. Their work has been supported by the Canada Council for the Arts, the Jerome Foundation, the Fulbright Foundation, and the New York State Council on the Arts, among others.
Online talk: Lin+Lam and Pooja Rangan
For the premiere of Lin+Lam's Three Missing Letters, the artists are joined by scholar Pooja Rangan to discuss how their work might offer an unauthorized history of postal mail in process of nation-building. Moderated by Mason Leaver-Yap, this conversation examines representations of migrant labour and its involvement in the infrastructure that enables material plunder, alternative archives that speak in different accents and thus offer counter narratives, and the geographical and political conditions that affected the production of this work.
Pooja Rangan is a New York and Massachusetts-based scholar working on documentary politics and ethics. She is an ACLS Burkhardt Fellow and Associate Professor of English and Film and Media Studies at Amherst College (US). Her first book, Immediations, dealt with humanitarianism, participatory documentary, and the dilemma of "giving voice", and her current projects revolve around accent, listening, disability, and abolition as challenges and horizons for documentary.
Online talk: Lin+Lam at Museum Abteiberg
On the occasion of Outset's donation of the KW Production Series works to the collection of Museum Abteiberg, artists Lin+Lam discuss their video Three Missing Letters with Abteiberg curator Haris Giannouras.
Partners
Lin+Lams's Three Missing Letters is a commission by KW Institute of Contemporary Art, Berlin, with support from Julia Stoschek Collection and Outset Germany_Switzerland.