Onyeka Igwe 
A So-Called Archive
2020, 20m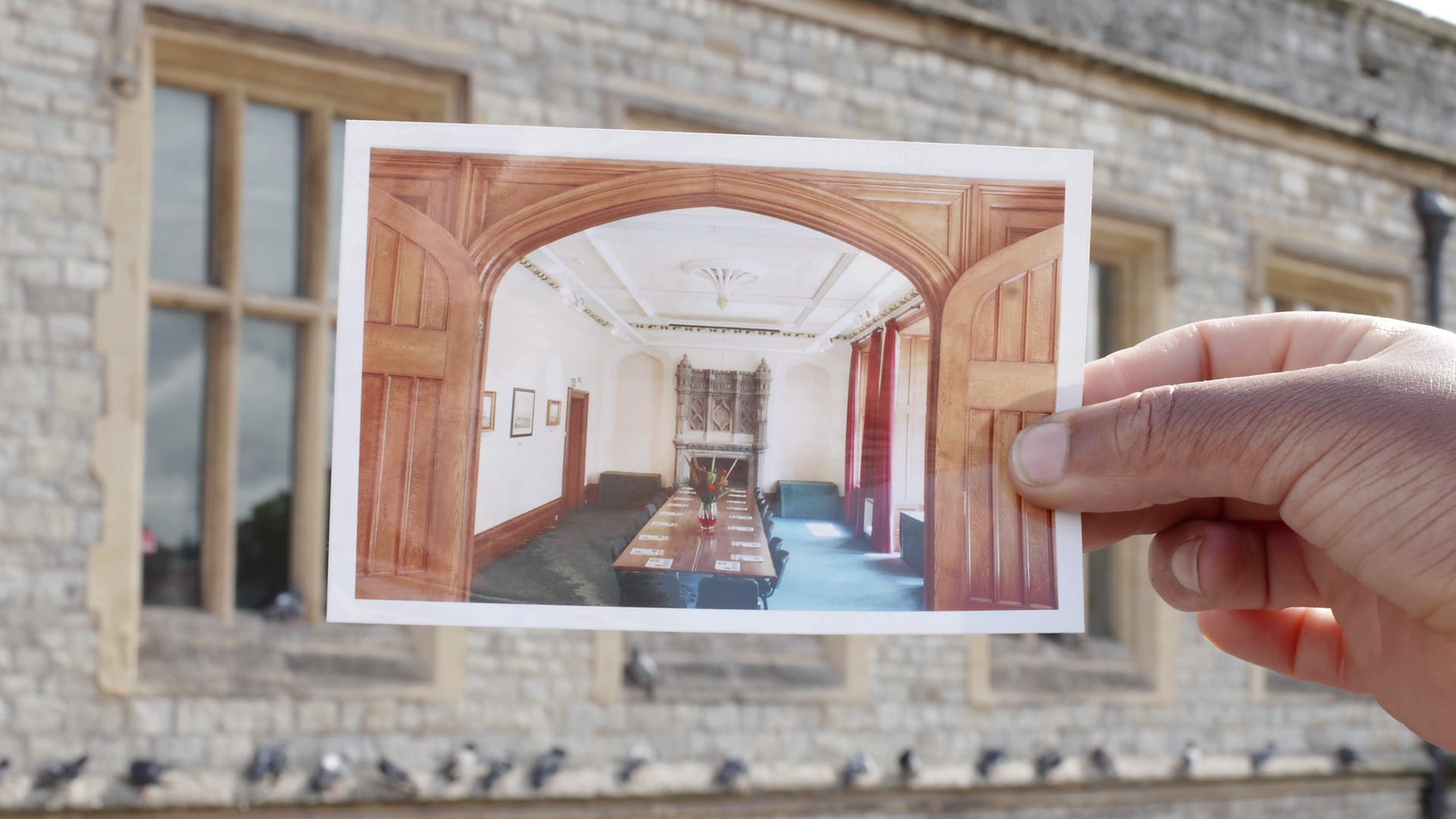 With a forensic lens, Onyeka Igwe's A So-Called Archive interrogates the decomposing repositories of Empire. Blending footage shot over the past year in two separate colonial archive buildings—one in Lagos, Nigeria, and the other in Bristol, United Kingdom—this double portrait considers the 'sonic shadows' that colonial images continue to generate, despite the disintegration of their memory and their materials. Igwe's film imagines what might have been 'lost' from these archives. It mixes the genres of the radio play, the corporate video tour, and detective noir, with a haunting and critical approach to the horror of discovery.
In Lagos, the former Nigerian Film Unit was one of the first self-directed outposts of the British visual propaganda engine, the Colonial Film Unit (1932–1955). A So-Called Archive documents a building largely emptied of its contents: desolate rooms now house dust, cobwebs, stopped clocks, and rusty and rotting celluloid fi lm cans. The films found in this building are hard to see, not only because of their condition, but also perhaps because people do not want to see them. Meanwhile, in Bristol Temple Meads, the former British Empire and Commonwealth Museum (2002–2009) was previously housed in one Isambard Kingdom Brunel's most famous railway designs. The museum included photography, film, sound and object collections gathered from locations across the former British Empire. Like the Nigerian Film Unit, this building too has been purged; the museum closed shortly after reported allegations of the illegal sale of several items from its collection.
A So-Called Archive depicts these former vaults—along with their histories of hoarding, monetisation, documentation and now abandonment—as metonyms for the enduring entanglements between the UK and its former colonies. These sites were and continue to be home to purulent images that we cannot, will not, or choose not to see.
About the artist
Onyeka Igwe is an artist, filmmaker, programmer, and researcher. In her non-fiction video work, Igwe uses dance, voice, archive, and text to expose a multiplicity of narratives. The work explores the physical body and geographical place as sites of cultural and political meaning. Igwe's video works have been screened at the Institute of Contemporary Arts, London, 2017; Dhaka Art Summit, 2020; and at film festivals internationally including the London Film Festival, 2015; Rotterdam International (NL), 2018, 2019 and 2020; Edinburgh Artist Moving Image (GB), 2016; Images Festival, Toronto (CA), 2019; and the Smithsonian African American Flm Festival, Washington, D.C., 2018. Solo projects include Corrections, with Aliya Pabani, Trinity Square Video, Toronto (CA), 2018; and There Were Two Brothers, Jerwood Arts London, 2019. Recent group projects include [POST] Colonial Bodies 2, CC Matienzo, Buenos Aires, 2019; there's something in the conversation that is more interesting than the finality of (a title), The Showroom, London, 2018; World Cup!, articule, Montreal (CA), 2018; Arguments, Cordova, Vienna, 2017; and Multiplex, Nuit Blanche, Toronto (CA), 2016. In 2020, Igwe was awarded the Arts Foundation Futures Award for Experimental Short Film and was the recipient of the Berwick New Cinema Award in 2019.
Online talk: Onyeka Igwe and Ariella Aïsha Azoulay, 17 December 2020
In conjunction with the premiere of Onyeka Igwe's new film, A So-Called Archive, the KW Production Series hosts a discussion with Igwe and historian Ariella Aïsha Azoulay. The conversation interrogates the role of cultural production and its relation to imperial foundations of knowledge: the document, the archive, and the museum.
A crucial text that informed Igwe's own research as she made her new film, Azoulay's book Potential History: Unlearning Imperialism (Verso, 2019) seeks to expose the violent apparatus of the museum and the archive—institutions that order (and thereby have the power to narrate) time, space, and politics. This event looks to Azoulay's writing and Igwe's film as mutually resonant discourses that might inform not only how we look at the past, but how we might rehearse its unlearning.
Ariella Aïsha Azoulay teaches political thought and visual culture at Brown University. She is the author of Potential History and the director of Un-documented: Unlearning Imperial Plunder (2019).
Artist Q&A
Onyeka Igwe responds to audience questions presented during the public discussion, 17 December 2020
Audience question: Really enjoying the conversation. Just wondering if there is any sense of a loss of a love or a passion in regards to your relationship to archives… something you once loved, or is it realising we are conditioned / socialised to love the archive?
Onyeka Igwe: I really resonated with Aïsha's description of a learned reverence for the archive. I feel as if we are taught to respect and even maybe fear archives as sources of knowledge rather than love them. It's a reverence that avoids questioning and disciplines society. So no loss of love. In fact it was more of a feeling of freeing myself from some kind of hold I didn't realise the archive had over me. Distancing myself from those imposed allegiances is exciting and enjoyable. Or maybe I am just a short-sighted ex-lover.
Audience: Can you talk about your use of captions in your video? Why was it important for YOU to include it with this piece and the effect had on the whole videography process?
Igwe: I guess the pandemic has pricked my consciousness for the negligence I had shown in terms of accessibility in my previous work. The Covid-19 pandemic brought sickness and disability to the foreground. So I set out to caption and audio-describe the film and reached out to Collective Text. However, after working with Em from Collective Text and consulting with David Ellington, a Black Deaf artist based in Bristol, I learned to change my priorities. Instead of simply translating the sound to written words, the captions became a visual and textual representation of the sonic. I think this goes some ways to doing that but I'm interested in furthering this work in future projects. Basically: more animated captions!
Audience: Thank you so much for your generosity, Onyeka. You mentioned that some people were confused by your attachment to the archive. Do you have information about how people who held those views feel about some of your most recent works?
Igwe: I was referring to people I met in Nigeria, and I haven't shown recent works there – or any actually! I would really love to engage with Nigerian and more generally African and African diasporic communities about this work.
Audience: Onyeka, I love your film. For so many reasons, it has enriched and nourished my obsession and struggle with the archive and its association with images. This is especially the case for me, as I think alongside the work of Palestinian artists Ruanne Abou Rahme and Basel Abbas, which your work, I feel, has affinities with. There is power in how the image plays a role of a witness. I am thinking specifically of the radio play section, the dialogue and the story that's revealed in that dialogue. Can you speak more to the role of witness or witnessing in your film?
Igwe: I often think of images as set up to be visual evidence, so I am thinking on what I understand of witnessing. I guess I'll offer this: I thought of the radio play as an opportunity to tell the story of these particular archival sites featured in the film. For example, images felt too direct for a sensitive story that involves alleged criminality, a legal grey area. But I also wanted the associations that I already have with classic radio play formats (the afternoon BBC Radio 4 tone) to have a relationship of inference to the ways in which I experienced the British Empire and Commonwealth Museum (BECM) archival location in Bristol – and more broadly the way in which I experienced colonial archives in the UK. So in an attempt to be less direct and more circumspect, I opted for audio. I wanted to offer the same kind of layering and juxtaposition that an image-based collage could offer in audio. So I guess images were too overt a witness for something I wanted to communicate through other sensorial means. 
Audience: Do you consider that the 'Archive' belongs to the past tense of time? Considering the history of using Archive through Positivism in the 19th century as a tool for rationalising the modern worldview and perspectives, we still see it in our everyday life. More categories enable the system to control more. Regardless of these historic views, how would you approach or address this new form of Archive? How could we make this more graspable and addressing not only the past, but the present?
Igwe: No, I don't think of the archive – more specifically the state or colonial archive – in the past tense. Archives are still present. The knowledge they were founded on and reproduce are here, now. I think, at the same time as losing reverence for them, that the archive can be wider, can stretch, or can be infected. There are so many counter archival projects that highlight queer or feminist or black or working class knowledge systems and histories. I do think about what happens when you archive objects that have no place in traditional archives: how do we archive feelings, ingestion, presence, vibes? How can these kinds of questions transmute the archive?
Audience: Can the concept of refusal help to generate new grammars that potentiate a possibility for archives/collections to be reimagined as generational contracts, where accuracy and fulsomeness are to be co-determined continually over time?
Igwe: Where things are deposited, subject-to-contract, have a time limit or a renegotiation clause that means, sometimes, objects can be refused to the archive? I guess I don't necessarily believe that these contracts will be respected. What does it mean to use a contract according to legal structures, that might be problematic, to safeguard objects or materials in the archive? The archive is a space and practice of stewardship, looking after the contents it holds and preserves.
The sequence that ends the film offers the emptying of the archive as a new grammar. I am vastly interested in what will happen if they give it all back and away and stop hoarding. That is something that has yet to be done on a large scale, and I want to know what ripples that causes. What new languages emerge from that action?
Partners
Onyeka Igwe's A So-Called Archive is a co-commission by KW Institute of Contemporary Art, Berlin, and Mercer Union, Toronto; with support from Julia Stoschek Collection and Outset Germany_Switzerland. Additional support from Nasrin Himada, Adam Pugh and Tess Denman-Cleaver. Supported using public funding by Arts Council England.